Title: Step Brother Mine
Author- Opal Carew
Genre- Romance
My Rating – 4 Stars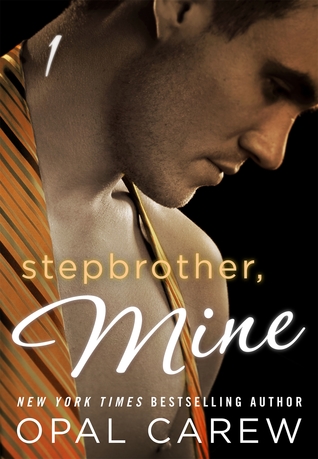 About
How far will she go to get the life she's always wanted?
Dana's always had a clear vision of how her life would go and how she'd get there, but when her father dies during her final year of college, her whole world threatens to topple down. In desperate need of money, she takes a drastic step. She decides to auction off her virginity.
Mason is used to getting what he wants. The head of his own corporate empire, he has wealth, means, and no shortage of beautiful women ready to fulfill his every need. But despite having it all, Mason is bored. Until he comes face-to-face with a woman from his past. Unable to let Dana slip away again, Mason bids on the one thing he's always wanted, even if it is completely forbidden. He's fantasied about having her to himself for years, touching her smooth skin, tasting her sweet lips, but Dana is off-limits, or is she? What started out as a way for each of them to get what they've always wanted is about to turn into so much more…
My Review
This book was published as 3 novella's over three weeks. This review will cover all 3 books in one review as they were all quite short I thought it better to add my views on one review. Warning this review may contain spoilers for all 3 books.
The story is about Dana and Mason. Dana has been cut off my her mum and she needs money to carry on with her fees so one of her friends suggests she sells her virginity on a website. The ad is then seen by Mason who it turns out was her stepbrother a years ago but he suddenly disappeared from Dana's life and then her mum and step father separated. Mason never intends to take what he has paid her he just wants to help Dana.
Book 1 is about Dana and Mason reconnecting and getting to know each other and we get flash back to the previous times together. It was great to see their relationship when they were younger and how Mason cared for Dana in the absence of her mum and to keep her out of the her step fathers reach.
In book 2 we learn about why Mason disappeared and left Dana and their relationship begins to grow. This book also introduces a BDSM element that I wasn't expecting as Mason seemed different with Dana. He seemed so caring so I was surprised when he told Dana he wanted this kind of relationship even if it was to push her away.
Book 3 sees their relationship intensive and Dana goes from being very inexperienced to having a lot of BDSM situation thrown at her by Mason but will their relationship to more?
All three books flowed well and the plot was well written with lots of twists in the story. Books 1 and 2 do end in a cliff hanger so I was pleased I had all three to read back to back. At many points in the book it gets hot and steamy. Something happened in book 3 which I felt was a little rushed and could have been extended further. Each novella is fairly short (about 80 pages) so I read all three in a couple of hours.
Overall a great sexy hot read that I really enjoyed.
·

*
I received an ARC from Netgalley in exchange for an honest review.
Links
Stepbrother, Mine is also available as an ebook "novel in three parts".
Here are links to those three parts.


Part 1

Part 2

Part 3